The Rise and Decline of Soviet Morality: Culture, Ideology, Collective Practices
Abstract
In the article, it is proposed that the collapse of Soviet society was presaged by a growing crisis in late Soviet morality. On the periphery of late Soviet morality, collective cultural practices are seen to have successfully functioned based on a limited ethics of virtue. In the absence of an alternative to Soviet ideology, social regulation started to draw upon values intended for the reproduction of local communities. A growing contradiction between the limited values of the new social class/corporate entities and the need to develop universal values for a big society is currently the key ideological legitimation problem facing the Russian political order.
References


Arkhipova, A., & Kirzyuk, A. (2020). Opasnyye sovetskiye veshchi. Gorodskiye legendy i strakhi v SSSR [Dangerous Soviet Things. Urban Legends and Fears in the USSR]. Moscow: Novoye literaturnoye obozreniye.


Bogdanov, K. A. (2009). Vox populi: Fol'klornyye zhanry sovetskoy kul'tury [Vox Populi: Folk Genres of the Soviet Culture]. Moscow: Novoye literaturnoye obozreniye.


Cantor, M. K. (2011). Apostol revolyutsii (V. V. Mayakovskiy) [Apostle of the Revolution (V. V. Mayakovsky)]. In S. V. Drugoveiko-Dolzhanskaya (Ed.), Literaturnaya matritsa. Uchebnik, napisannyy pisatelyami. XX vek [Literary Matrix. A Textbook Written by Writers. XX century] (pp. 195–264). St. Petersburg: Limbus Press.


Dobrenko, E. (2007). Politekonomiya sotsrealizma [Political Economy of Socialist Realism]. Moscow: Novoye literaturnoye obozreniye.


Dragunsky, D. (2019, November 15). "Serzhant" ushel v otstavku ["Sergeant" Resigned]. Gazeta.ru. Retrieved from: https://www.gazeta.ru/comments/column/dragunsky/12811208.shtml?updated


Efremov, I. A. (2020). Tumannost' Andromedy [The Andromeda Nebula]. Moscow: AST. (Originally published in Russian 1957)


Fishman, L. G. (2014). Krizis morali kak krizis ideologiy? [The Crisis of Morality as a Crisis of Ideologies?]. Prostranstvo i Vremya, 1(15), 19–25.


Fishman, L. G., & Martianov, V. S. (2016). Etika dobrodeteli dlya novykh sosloviy: transformatsiya politicheskoy morali v sovremennoy Rossii [Ethics of Virtue for New Estates: Transformation of Political Morality in Modern Russia]. Voprosy filosofii, 10, 58–68.


Fishman, L. G., Martianov, V. S., & Davydov, D. A. (2019). Rentnoye obshchestvo: v teni truda, kapitala i demokratii [Rental Society: In the Shadow of Capital, Labor and Democracy]. Moscow: HSE Publishing House. https://doi.org/10.17323/978-5-7598-1913-4


Glinchikova, A. G. (2011). Modernizatsiya, traditsiya i evolyutsiya chastnogo interesa [Modernization, Tradition and Evolution of Private Interest]. Politiko-filosofskiy yezhegodnik, 4, 155–180.


Gudkov, L. (2013). Chelovek v nemoral'nom prostranstve: k sotsiologii morali v posttotalitarnom obshchestve [Man in the Non-Moral Space: Towards the Sociology of Morality in a Post-Totalitarian Society]. Vestnik obshchestvennogo mneniya, 3–4(116), 118–179.


Ivankina, G. (2015). Sovetskaya kul'tura kak dvoryanskaya estetika [Soviet Culture as a Noble Aesthetics. Blog post]. Retrieved from: https://www.ridus.ru/news/191190


Karacharovsky, V. V., Shkaratan, O. I., & Yastrebov, G. A. (2015). Russkaya kul'tura truda i inostrannoye vliyaniye [Russian Culture of Work and Foreign Influence]. Moscow: Strana Oz.


Kara-Murza, S. G. (2005). Manipulyatsiya soznaniyem [The Manipulation of the Mind]. Moscow: Eksmo.


Kharkhordin, O. V. (2002). Oblichat' i litsemerit': genealogiya rossiyskoy lichnosti [Reveal and Hypocrite: Genealogy of the Russian Personality]. St. Petersburg: Izdatel'stvo Yevropeyskogo Universiteta.


Martianov, V. S. (2007). Ideologiya Vladimira Putina: kontseptualizatsiya poslaniy Prezidenta Rossii [The Ideology of Vladimir Putin: Conceptualization of the Messages of the President of the Russian Federation]. Politicheskaja ekspertiza: POLITEKS, 3(1), 147–175.


Martianov, V. S. (2017). Doveriye v sovremennoy Rossii: mezhdu pozdnim Modernom i novoy soslovnost'yu? [Trust in Contemporary Russia: Between Late Modernity and New Estate Order?]. Antinomii, 17(1), 61–82. https://doi.org/10.17506/ryipl.2016.17.1.6182


Orekhovsky, P. A. (2019). Struktury kognitivnosti i rossiyskiye reformy [Cognitive Structures and Russian Reforms; scientific report]. Moscow: Institute of Economics, RAS.


Ossovskaya, M. (1987). Rytsar' i burzhua [Knight and the Bourgeois]. Moscow: Progress.


Panfilov, O. (2016, March 7). Litsemeriye sovetskikh rabov [Hypocrisy of Soviet Slaves]. Krym.Realii. Retrieved from: https://ru.krymr.com/a/27593417.html


Ponomarev, E. (2017). Literatura v sovetskoy shkole kak ideologiya povsednevnosti [Literature in the Soviet School as Everyday Ideology]. Novoye literaturnoye obozreniye, 3(145), 120–138.


Rakitin, A. (2016). "Sotsializm ne porozhdayet prestupnosti": seriynaya prestupnost' v SSSR ["Socialism Does Not Breed Crime": Serial Crime in the USSR]. Yekaterinburg: Kabinetnyy uchenyy.


Rutkevich, M. N. (1998). Protsessy sotsial'noy degradatsii v rossiyskom obshchestve [The Processes of Social Degradation in Russia's Society]. Sotsiologicheskiye issledovaniya, 6, 3–12.


Shubin, A. V. (2008). Dissidenty, neformaly i svoboda v SSSR [Dissidents, Informals and Freedom in the USSR]. Moscow: Veche.


Simonyan, R. (2011). Reformy 1990-kh godov: otsenka segodnya [Reforms of the 1990s: Assessment Today]. Rossiya i sovremennyy mir, 1(70), 113–131.


Sokolov, R. V. (n.d.). Istoriya kommunarstva: retrospektiva i perspektiva v kontekste obshchestvenno-pedagogicheskogo dvizheniya [The History of Communism: a Retrospective and Perspective in the Context of the Socio-Pedagogical Movement]. Retrieved from: http://www.altruism.ru/sengine.cgi/5/22/7


Stepanova, E. (2019). Competing Moral Discourses in Russia: Soviet Legacy and Post-Soviet Controversies. Politics, Religion & Ideology, 20(3), 340–360. https://doi.org/10.1080/21567689.2019.1656070


Stolyar, M. B. (2010) Religiya sovetskoy tsivilizatsii [Religion of Soviet Civilization]. Kiev: Stilos.


Voeikov, M. (2015) Vpered k kapitalizmu? K voprosu o predstoyashchey stadii sotsial'no-ekonomicheskogo razvitiya Rossii [Forward to Capitalism? On the Upcoming Stage of Socio-Economic Development of Russia]. Svobodnaya mysl', 4, 126–139.


Volkenstein, M. (2018). Raznoobraziye i prisposoblenchestvo. Kak i v chem moderniziruyetsya rossiyskoye obshchestvo [Diversity and Adaptation. How and in What is Russian Society being Modernized]. InLiberty. Retrieved from: https://www.inliberty.ru/article/modern-volkenstein/


Yurchak, A. (2014). Eto bylo navsegda, poka ne konchilos'. Posledneye sovetskoye pokoleniye [Everything Was Forever, Until It Was No More: The Last Soviet Generation]. Moscow: Novoye literaturnoye obozreniye (in Russian, authorized translation).


Zinoviev, A. (1994). Kommunizm kak real'nost'. Krizis kommunizma [Communism as a Reality. The Crisis of Communism] (Grekov L. I., Ed.). Moscow: Tsentrpoligraf.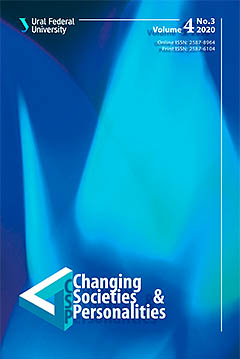 How to Cite
Martianov, V., & Fishman, L. (2020). The Rise and Decline of Soviet Morality: Culture, Ideology, Collective Practices. Changing Societies & Personalities, 4(3), 372–395. doi:10.15826/csp.2020.4.3.106
Section
Opening the Debate