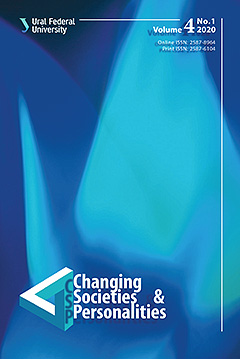 Changing Societies & Personalities is an international, peer-reviewed journal, founded in 2016 and published quarterly in English.
Founder and publisher: Ural Federal University (Yekaterinburg, Russia).
Editor-in-Chief: Dr. Elena A. Stepanova
CS&P examines how rapid societal-level changes are reshaping individual-level beliefs, motivations and values — and how these individual-level changes in turn are reshaping societies. The interplay of personality traits and sociocultural factors in defining motivation, deliberation, action and reflection of individuals requires a combination of theoretical and empirical knowledge. Since an interdisciplinary approach is needed to understand the causes and consequences of the contemporary world's changing socio-political institutions, moral values, and religious beliefs, the journal welcomes theoretical and empirical contributions from a wide range of perspectives in the context of value pluralism and social heterogeneity of (post)modern society.
Topics of interest include, but are not limited to
Value implications of interactions between socio-political transformations and personal self-identity,
Changes in value orientations, materialist and post-materialist values,
Moral reasoning and behavior,
Variability and continuity in the election of styles of moral regime and/or religious identity,
The moral bases of political preferences and their elimination,
Social exclusion and inclusion,
Post-secular religious individualism,
Tolerance and merely 'tolerating': their meanings, varieties and fundamental bases,
Ideologies of gender and age as variables in political, moral, religious and social change,
Educational strategies as training for specific social competences,
Social and existential security.
The journal publishes original research articles, forum discussions, review articles and book reviews.