Karpov V., Svensson M. (Eds.) (2020). Secularization, Desecularization, and Toleration. Cross-Disciplinary Challenges to a Modern Myth. Palgrave Macmillan.
References


Casanova, J. (2011). The secular, secularizations, secularisms. In C. Calhoun, M. Juergensmeyer, & J. VanAntwerpen (Eds.), Rethinking secularism (pp. 54–74). Oxford: Oxford University Press.


Karpov, V., & Svensson, M. (Eds.). (2020). Secularization, desecularization, and toleration. Cross-disciplinary challenges to a modern myth. Cham, Switzerland: Palgrave Macmillan. https://doi.org/10.1007/978-3-030-54046-3


Smolkin, V. (2018). A sacred space is never empty. A history of Soviet atheism. Princeton, NJ: Princeton University Press.


Zdioruk, S. (2005). Suspil'no-relihiyni vidnosyny: vyklyky Ukraini 21 stolittya [Social and religious relations: the challenges to Ukraine of the 21 century]. Kyiv: Znannia Ukrainy.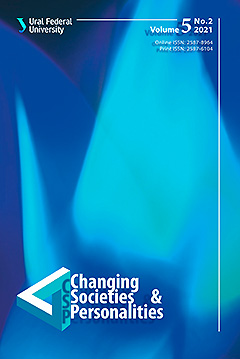 How to Cite
Kyselov, O. (2021). Karpov V., Svensson M. (Eds.) (2020). Secularization, Desecularization, and Toleration. Cross-Disciplinary Challenges to a Modern Myth. Palgrave Macmillan.. Changing Societies & Personalities, 5(2), 287–290. doi:10.15826/csp.2021.5.2.135