Reactualisation of Triadology in Polemics with Postmetaphysics
Review of Oleg Davydov (2020). Revelation of Love: Trinitarian Truth of Being. St. Andrew's Biblical Theological Institute
Andrey V. Lavrentiev

Institute of Linguistics and Intercultural Communication of Sechenov First Moscow State Medical University (Sechenov University) and Russian Orthodox University of St. John Theologian, Moscow, Russia

http://orcid.org/0000-0003-4533-8972
References


Davydov, O. (2020). Revelation of love: Trinitarian truth of Being. St. Andrew's Biblical Theological Institute.


Lavrentiev, A. V. (2014). Problema istorichnosti Boga v rabotakh Vol'fkharta Pannenberga: filosofskie, dogmaticheskie i ekumenicheskie aspekty [The problem of God in history in the works of Wolfhart Pannenberg: its philosophical, dogmatic, and ecumenical aspects]. St. Tikhon's University Review, 2(52), 43–58. https://doi.org/10.15382/sturI201452.43-58


Vletsis, A. (2009). Die immanente Trinität ist die "doxologische Trinität": die Entsprechung von "Theologia" und "Oikonomia" als Voraussetzung einer Annäherung der Trinitätsmodelle von Ost und West [The immanent Trinity is the "doxological Trinity": the correspondence of "theologia" and "oikonomia" as a prerequisite for a rapprochement between the of the Trinity models of East and West]. Una Sancta, 64(1), 8–28.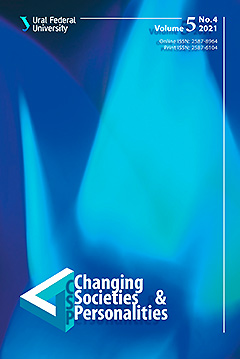 How to Cite
Lavrentiev, A. (2021). Reactualisation of Triadology in Polemics with Postmetaphysics. Changing Societies & Personalities, 5(4), 695–699. doi:10.15826/csp.2021.5.4.159