Ronald Inglehart (2018). Cultural Evolution, People's Motivations are Changing, and Reshaping the World. Cambridge University Press
Ana Maria López-Narbona

University of Michigan, USA and University of Malaga, Spain
References


Beck, U. (1992). From Industrial Society to Risk Society: Questions of Survival, Social Structure and Ecological Enlightenment. Theory, Culture and Society, 9(1), 97–123.


Diez-Nicolas, J. (2013). Sociological Theory and Social Reality. Revista Española de Investigaciones Sociológicas, 143, 7–24. DOI: 10.5477/cis/reis.143.7.


Elias, N. [1987] (2001). The Society of Individuals. London, UK: Bloomsbury Academic.


Galtung, J. (1976). Social Position and the Image of the Future. In: H. Ornauer et al. (eds.). Images of the World in the Year 2000: A Comparative Ten Nation Study (pp. 381–400). Atlantic Highlands, NJ: Humanities Press.


Giddens, A. (1991). Modernity and Self-Identity. Self and Society in the Late Modern Age. Stanford, CA: Stanford University Press.


Hochschild, A. R. (2016). Strangers in Their Own Land: Anger and Mourning on the American Right. New York, NY: The New Press.


Kaplan, A. (1973). The Conduct of Inquiry: Methodology for Behavioral Science. New Brunswick, NJ: Transaction Publishers.


Merrit, R. L., & Rokkan, S. (Eds.). (1966). Comparing Nations: The Use of Quantitative Data in Cross-National Research. New Haven, CT: Yale University Press.


Mol, A. P. J. (2008). Environmental Reform in the Information Age. The Contours of Informational Governance. New York: Cambridge University Press.


Oosterveer, P. (2007). Global Governance of Food Production and Consumption: Issues and Challenges. Cheltenham, UK: Edward Elgar Publishing.


Smith, T., Sonnenfeld, D. A., & Pellow, D. N. (Eds.). (2006). Challenging the Chip: Labor Rights and Environmental Justice in the Global Electronics Industry. Philadelphia, PA: Temple University Press.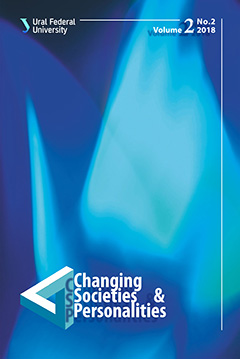 How to Cite
López-Narbona, A. (2018). Ronald Inglehart (2018). Cultural Evolution, People's Motivations are Changing, and Reshaping the World. Cambridge University Press. Changing Societies & Personalities, 2(2), 198-202. doi:10.15826/csp.2018.2.2.037