Alfred Adler's Individual Psychology in Light of Classical Persian Literature
Abstract
This paper aims to present a tentative analysis of the possible commonalities and differences between Adlerian individual psychology and classical Persian literary texts of the pre-modern period written by mystics Abu Saeed Abu al-Khair, Jami, Saadi, and Rumi. The authors put forward the suggestion that modern psychological approaches, especially those dealing with education of children, might be rooted in the teachings of Iranian mystics. In mysticism and classical Iranian literature, like in Adlerian psychology, much attention is given to human nature in its entirety and personality development. The analysis focuses on such core aspects of Adler's theory as the feeling of inferiority and the striving for recognition, the influence of family and social environment on personality development and lifestyle. It is shown that, like Adler's individual psychology, classical Persian texts stress the importance of the social aspect in the child's development but while Adler believed in the freedom of choice and people's creative power to change their personality structure (lifestyle), the classical Iranian authors emphasized the existence of a certain "true nature" that cannot be influenced by education or social environment. These findings can inspire future research into the possible connections between the holistic personality theories in modern psychology and the philosophical thought in classical Persian literature.
References


Adler, A. (1929). The science of living. Greenberg.


Adler, A. (2000). Understanding human nature (T. Javansaz., Trans.). Roshd Publications. (Original work published in German 1927)


Adler, A. (2006). Education for prevention: Individual psychology in the schools. (G. L. Liebenau, Trans.). In H. T. Stein (Ed.), The collected clinical works of Alfred Adler (Vol. 11). The Classical Adlerian Translation Project. (Originally published in German 1929)


Ansbacher, H. L. (1991). Anomie: The sociologist's conception of lack of social interest. Individual Psychology: Journal of Adlerian Theory, Research & Practice, 47(1), 22–25.


Ansbacher, H. L., & Andbacher, R. R. (Eds.). (1956). The individual psychology of Alfred Adler: A systematic presentation in selections from his writings. Basic Books.


Brühlmeier, A. (n.d.). Upbringing and formative education. Heinrich Pestalozzi. https://en.heinrich-pestalozzi.de/fundamental-ideas/education


Carducci, B. (2009). The psychology of personality: Viewpoints, research, and applications. Wiley-Blackwell.


Eckstein, D., Aycock, K. J., Sperber, M. A., McDonald, J., van Wiesner, V., Watts, R. E., & Ginsburg, P. (2010). A review of 200 birth-order studies: Lifestyle characteristics. The Journal of Individual Psychology, 66(4), 408–434.


Edgar, T. E. (1985). The creative self in Adlerian psychology. Individual Psychology: Journal of Adlerian Theory, Research & Practice, 41(3), 336–339.


Ferdowsi, A. (1957). Shakhname [Shahnameh] (Vol. 1). Akademiia nauk SSSR.


Hashemlou, J. (2017, April 26). Nzrah shkhsat Alfred Adler (rwanshnasa frd ngur) [Alfred Adler's personality theory (individualistic psychology)]. Rwanshnasa Hashmlow. http://jafarhashemlou.blogfa.com/post/172


Hoffman, R. (2023, February 8). Alfred Adler's theories of individual psychology and Adlerian therapy. Simply Psychology. www.simplypsychology.org/alfred-adler.html


Jami, A. R. (1997). Masnavi Haft Awrang [Seven thrones] (A. Afsahzad & H.A. Tarbiat, Eds.). Written Heritage Publishing Centre. (Originally published ca. 1468 B.C.)


Jones-Smith, E. (2016). Theories of counselling and psychotherapy. An integrative approach. Sage.


McCluskey, M. C. (2022). Revitalizing Alfred Adler: An echo for equality. Clinical Social Work Journal, 50(4), 387–399. https://doi.org/10.1007/s10615-021-00793-0


Monavvar, M. (1992). Israr ul tauheed fi maqamat ul Sheikh Abi Saeed [The secrets of monotheism in the shrines of Sheikh Abu Saeed Abi al-Khair] (M. Shafiei Kadkani, Ed.). Agah. (Originally published ca. 1174 B.C.)


Nizami, J. (1945). Makhzanolasrar (Gh. H. Darab, Trans.). Arthur Probsthain. (Originally published ca. 1173 B.C.)


Rumi, J. M. (1996). Koliyat Shams-E Tabrizi [Generalities of Shams Tabrizi] (B. Forouzanfar, Ed.). Rad publication. (Originally published ca. 1260 B.C.)


Ryckman, R. M. (2004). Theories of personality (8th ed.). Wadsworth/Thomson learning.


Saa'di Shirazi, M. (1911). The Bustan of Sa'di (A. H. Edwards, Trans.). Global Grey. (Originally published ca. 1257 B.C.)


Saa'di Shirazi, M. (2010). Gulistan [Rose Garden] (E. Rehatsek, Trans.). Omphaloskepsis. (Originally published ca. 1257 B.C.)


Sajjadi, S. Z. (1997). Introduction to the foundations of mysticism and Sufism (6th ed.). Samat.


Sarfi, M. R., & Esfandiari, M. (2012). Shere talimi dar manzumehaye Attar [Didactic poetry in the long poems of Attar] (Scientific information database). Didactic Literature Review (Persian Language and Literature Review), 3(12), 103–126. https://www.sid.ir/paper/165285/fa


Schultz, D. P. (2012). Alfred Adler: Individual psychology. In D. P. Schultz & S. E. Schultz (Eds.), Theories of personality (10th ed.) (pp. 108–134). Cengage Learning.


Shafii Kadkani, M. R. (2007). Zmanh ajtma'ea sh'er Farsa [The social context of Persian poetry]. Akhtran.


Watts, R. (2012). On the origin of striving for superiority and social interest. In J. Carlson & M. Maniacci (Eds.), Alfred Adler revisited (pp. 41–46). Routledge.


Yalameha, M. (2011). Barresie tatbighi ash-aare taalimi Ferdowsi va Hafiz [A comparative study of didactic poetry of Ferdowsi and Hafiz]. Didactic Literature Review, 3(11), 153–175.


Zarrinkoub, A. (2009). Step by step up to union with God. Life, thought and spiritual journey of Jalal-al-Din Rumi (M. Keyvani, Trans.). Mazda Publishers.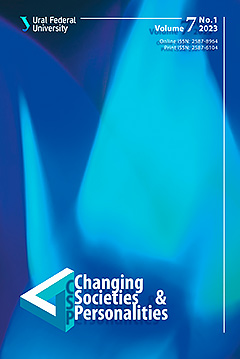 How to Cite
Ismagilova, F., & Khamenehei, N. (2023). Alfred Adler's Individual Psychology in Light of Classical Persian Literature. Changing Societies & Personalities, 7(1), 213–223. doi:10.15826/csp.2023.7.1.226