US, Russia, China and Africa in the Evolving Global Order
David Monyae

University of Johannesburg, South Africa
Abstract
The relations of US, Russia, China and the African continent have evolved since the end of the Second World War (WWII). While the US, Russia and China were not colonial powers in Africa, their interactions between and among themselves had little to do with Africa emerging from the bondage of colonialism. With the rise of the Cold War, Africa became a space of great interest to these countries as they compete for influence in different spheres big power politics. Throughout the Cold War, Africa's importance become significant as a source of vital resources and player within the institutions of global political and economic governance such as the United Nations. At the end of the Cold War in 1990s, the big took a different phase. The interactions of these countries with Africa declined drastically with expectation the US's humanitarian engagement. Russia and China withdrew support to Africa as they both abandoned an ideological driven and hegemonic foreign policy in Africa in the post-Cold War era. However, the rise of China and the resurgence of Russia is gradually bringing back rivalries between and among the big, three powers in Africa. Previously viewed as an insignificant continent, Africa is increasingly occupying an important role as a critical partner in development, conflict resolution, peace and security.
References


African Development Bank. (2009). The Impact of the Crisis on African Economies – Sustaining Growth and Poverty Reduction. African Development Bank.


African Leaders. (2011). State of Africa Report 2011. Boston, MA: Boston University Press.


Bennett, R. K. (1983). The Broken Promise of the United Nations. Reader's Digest, 123, 45–51.


Bosco, D. (2014). Rough Justice: The International Criminal Court in a World of Power Politics. Oxford & New York: Oxford University Press.


Fei, J. (2017). China's Overseas Military Base in Djibouti: Features, Motivations and Policy Implications. China Brief, 17(17), 7–11.


Gaibulloev, K., & Sandler, T. (2011). The Adverse Effect of Transnational and Domestic Terrorism on Growth in Africa. Journal of Peace Research, 48(3), 355–371. DOI: 10.1177/0022343310395798


Gomez, S. A. (2018, June 4). What is Colombia seeking in NATO? Granma. Retrieved from http://en.granma.cu/mundo/2018-06-04/what-is-colombia-seekingin-nato


Gokcekus, O., & Suzuki, Y. (2013). Trade with the EU Reduce Corruption in Africa? Journal of Economic Integration, 28(4), 610–631. DOI: 10.11130/jei.2013.28.4.610


Gordon, R. (2009). The Dawn of a New, New International Economic Order? Law & Contemporary Problems, 72(4), 131–162.


Grace, A. (2018). The Lessons China Taught Itself: Why the Shanghai Cooperation Organization Matters. China Brief, 18(11), 11–14. Retrieved from https://jamestown.org/wp-content/uploads/2018/06/Read-the-6-19-2018-CB-Issue-in-PDF.pdf?x87069


Madhav, R. (2017, May 17). Turning down China. The Indian Express. Retrieved from https://indianexpress.com/article/opinion/columns/turning-down-china-one-belt-one-road-4659155/


Mayer, S. (1971). The Treaty of Versailles. London: BBC Publishing.


Niang, A. (2016, October 28). Analysis: Moral Equivalence in International Relations. Daily Maverick. Retrieved from https://www.dailymaverick.co.za/article/2016-10-28-analysis-moral-equivalence-in-international-relations/


Panitch, L., & Gindin, S. (2013). The Making of Global Capitalism: The Political Economy of American Empire. New York, NY: Verso.


Pant, H. V., & Haidar, A. M. (2017). China's Expanding Military Footprint in Africa. ORF Issue Brief, 195, 1–12. Retrieved from https://www.orfonline.org/wp-content/uploads/2017/09/ORF_Issue_Brief_195_China_Military_Africa.pdf


Ramani, S. (2016, October 7). Why Russia is Interfering in the U.S. Presidential Elections. Huffington Post. Retrieved from https://www.huffingtonpost.com/samuel-ramani/why-russia-is-interfering_b_12801892.html


Roux, A. (2014). Everyone's Guide to the South African Economy (11th ed.). Cape Town: Zebra Press.


Shah, A. (2013, March 24). Structural Adjustment – a Major Cause of Poverty. Global Issues. Retrieved from http://www.globalissues.org/article/3/structural-adjustment-a-major-cause-of-poverty


Shtraks, G. (2018). Next Steps in the Merger of the Eurasian Economic Union and the Belt and Road Initiative. China Brief, 18(11). Retrieved from https://jamestown.org/program/next-steps-in-the-merger-of-the-eurasian-economic-union-and-the-belt-and-road-initiative/


Weller, M. (2015, June 17). Breaking Point for the ICC? BBC News. Retrieved from http://www.bbc.com/news/world-africa-33151419


Williams, B. R. (2015). African Growth and Opportunity Act (AGOA): Background and Reauthorization. Washington, DC: Congressional Research Service.


Xing, L., & Agustin, O. G. (2016). Constructing and Conceptualizing "Interdependent Hegemony" in an Era of the Rise of the BRICS and Beyond. In Li Xing (Ed.), The BRICS and Beyond: The International Political Economy of the Emergence of a New World Order (pp. 53–74). London & New York: Routledge.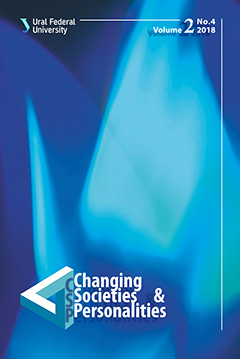 How to Cite
Monyae, D. (2018). US, Russia, China and Africa in the Evolving Global Order. Changing Societies & Personalities, 2(4), 351–365. doi:10.15826/csp.2018.2.4.051