Factors Influencing Nurses' Decision to Join a Professional Association in Russia
Abstract
Many professional associations of nurses in Russia and other countries struggle to increase their membership. Even though there are obvious advantages of membership in a professional organization, many people decide against it, which makes the study of factors that affect their decision-making a pertinent task.
The aim of our research is to study the factors of membership or nonmembership of nurses in professional organizations in Russia. We conducted semi-structured interviews among nurses in different Russian regions (N = 16). Their responses were analyzed by qualitative content analysis. We identified the main factors that determine nurses' membership or non-membership in professional associations and distinguished between objective and subjective reasons as well as active or passive attitudes demonstrated by our respondents in this regard.
The conclusion is made that nurses often adopt a "formal" approach to membership in professional associations, seeing it primarily as a certification requirement. This means that their interests may not coincide with the goals and mission declared by these associations in their charters. Some respondents, however, demonstrated a more active attitude, pointing out such reasons for membership as professional growth, opportunities for advanced training, socialization, exchange of ideas and so on.
References


Alotaibi, M. (2007). Factors Affecting Nurses' Decisions to Join Their Professional Association. International Nursing Review, 54(2), 160–165. DOI: 10.1111/j.1466-7657.2007.00555.x


American Nurses Association. (2016). ANA Mission Statement. Retrieved from https://www.nursingworld.org/ana/about-ana/


Bailey, P. A. (1987). Factors in Academia and Service That Influence Baccalaureate Graduates' Membership in the American Nurses' Association. Journal of Nursing Education, 26(1), 25–29. DOI: 10.3928/0148-4834-19870101-07


Bruhn, J. G. (2001). Being Good and Doing Good: The Culture of Professionalism in the Health Professions. Health Care Manager, 19(4), 47–58. DOI: 10.1097/00126450-200119040-00008


DeLeskey, K. (2003). Factors Affecting Nurses' Decisions to Join and Maintain Membership in Professional Associations. Journal of PeriAnesthesia Nursing, 18(1), 8–17. DOI: 10.1053/jpan.2003.18030008


Dollinger, M. L. (2000). Professional Associations: Ethics, Duty, and Power. Journal of the New York State Nurses Association, 31(2), 28–30. Retrieved from http://76.12.69.209/images/pdfs/communications/journal/fl_wntr00.pdf#page=28


Elo, S., & Kyngäs, H. (2008). The Qualitative Content Analysis Process. The Journal of Advanced Nursing, 62(1), 107–115. DOI: 10.1111/j.1365-2648.2007.04569.x


Esmaeili, M., Dehghan-Nayeri, N., & Negarandeh, R. (2013). Factors Impacting Membership and Non-Membership in Nursing Associations: A Qualitative Study. Nursing & Health Science, 15(3), 265–272. DOI: 10.1111/nhs.12012


Goolsby, M. J., & DuBois, J. C. (2017). Professional Organization Membership: Advancing the Nurse Practitioner Role. Journal of the American Association of Nurse Practitioners, 29(8), 434–440. DOI: 10.1002/2327-6924.12483


Greggs-McQuilkin, D. (2005). Why Join a Professional Nursing Organization? Nursing, 35, 19. DOI: 10.1097/00152193-200509001-00006


Haley-Andrews, S., & Winch, A. (2001). Mentoring, Membership in Professional Organizations, and the Pursuit of Excellence of Nursing. Journal for Specialists in Pediatric Nursing, 6(3), 147–148. DOI: 10.1111/j.1744-6155.2001.tb00137.x


Hall, R. H. (1982). The Professions, Employed Professionals, and the Professional Association. In Professionalism and the Empowerment of Nursing: Papers presented at the 53rd convention (pp. 1–15). Kansas City, MO: American Nurses Association Publications.


Ivanova, E. (2013). Rossiyskiye professionalnyye obyedineniya: statisty, strazhi stabilnosti ili provodniki obshchestvennogo razvitiya? [Russian Professional Associations: Sleeping Beauties, Guardians of Stability or Facilitators of Societal Development?]. Voprosy Ekonomiki, 11, 112–128. DOI: 10.32609/0042-8736-2013-11-112-128


Kung, Y. M., & Lugo, N. R. (2015). Political Advocacy and Practice Barriers: A Survey of Florida APRNs. Journal of the American Association of Nurse Practitioners, 27(3), 145–151. DOI: 10.1002/2327-6924.12142


Matthews, J. H. (2012). Role of Professional Organizations in Advocating for the Nursing Profession. The Online Journal of Issues in Nursing, 17(1), manuscript 3. Retrieved from https://ojin.nursingworld.org/MainMenuCategories/ANAMarketplace/ANAPeriodicals/OJIN/TableofContents/Vol-17-2012/No1-Jan-2012/Professional-Organizations-and-Advocating.html


O samoreguliruemyh organizacijah [On Self-Regulatory Organizations]. Federal Law of the Russian Federation No. 315-FZ (December 01, 2007, rev. on August 03, 2018). Retrieved from https://www.consultant.ru/cons/cgi/online.cgi?from=72967-0&req=doc&base=LAW&n=304238&REFDOC=72967&REFBASE=LAW


O poryadke i srokah prohozhdeniya medicinskimi rabotnikami i farmacevticheskimi rabotnikami attestacii dlya polucheniya kvalifikacionnoj kategorii [The Order of the Ministry of Health of the Russian Federation]. The Order of the Ministry of Health of the Russian Federation No. 240n (April 23, 2013). Retrieved from https://www.consultant.ru/cons/cgi/online.cgi?req=doc&base=LAW&n=330496&fld=134


Pashinyan, I. A. (2012). Kontent-analiz kak metod issledovaniya: dostoinstva i ogranicheniya [Content Analysis as a Research Method: Advantages and Limitations]. Nauchnaya periodika: problemy i resheniya, 3(9), 13–18. Retrieved from https://nppir.ru/PDF/02NP312.pdf


Rapp, L. A., & Collins, P. A. (1999). Reasons Why Nurses Do or Do Not Join Their Professional Organizations: A Research Study Done in New Hampshire. Nursing News, 49(5), 1–8.


Russian Nurses Association. (2008). Ustav [Organization charter]. Retrieved from https://medsestre.ru/wp-content/uploads/2020/05/ustav-rams.pdf


Russian Nurses Association. (2017). RNA report. Retrieved from http://medsestre34.ru/assets/files/files/itog2017.pdf


Walton, K. R. (2017). Barriers to Membership in a Professional Organization for Advanced Practice Nurses (Walden Dissertations and Doctoral Studies Collection). Minneapolis, MI: Walden University. Retrieved from https://scholarworks.waldenu.edu/cgi/viewcontent.cgi?article=5287&context=dissertations


White, M. J., & Olson, R. S. (2004). Factors Affecting Membership in Specialty Nursing Organizations. Rehabilitation Nursing, 29(4), 131–137. DOI: 10.1002/j.2048-7940.2004.tb00331.x


Wynd, Ch. A. (2003). Current Factors Contributing to Professionalism in Nursing. Journal of Professional Nursing, 19(5), 251–261. DOI: 10.1016/s8755-7223(03)00104-2


Yeager, S. J., & Kline, M. (1983). Professional Association Membership of Nurses: Factors Affecting Membership and the Decision to Join an Association. Research in Nursing and Health, 6(2), 45–52. DOI: 10.1002/nur.4770060203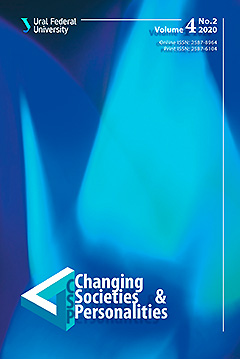 How to Cite
Akimova, N., & Medvedeva, E. (2020). Factors Influencing Nurses' Decision to Join a Professional Association in Russia. Changing Societies & Personalities, 4(2), 190–204. doi:10.15826/csp.2020.4.2.097